Welcome To Om Niwas, Jaipur
Experience opulence at affordable prices. An apartment style accommodation, first of its kind in Rajasthan, Om Niwas offers unmatchable blend of comforts of a home and luxuries of a hotel. The suites are spacious and tastefully decorated ranging from 33 sq. m. to 65 sq. m. Situated in the quiet area in the heart of the city; Om Niwas is set in a welcoming green and serene environment with large trees, verdant greenery, a beautiful terrace with great city views and landscaped gardens.
Families, friends, business travelers or tourists can choose from our range of suites available. Each suite is aesthetically designed air-conditioned rooms with attached wash and bathroom and most have a separate living room, private balcony and a well-equipped kitchenette. The well-furnished rooms are fitted with a refrigerator, a microwave, satellite TV and Ample sunlight, fresh air and quiet environs. Guests can seek tour and ticketing services at tour desk. The hotel offers pick-up services from the railway station and the airport at an extra charge. Om Niwas also offers a business centre with internet, fax and photocopying services. The restaurant serves Indian cuisine as well as continental dishes.
Enjoy a relaxed stay here, as your traveling and business needs are managed efficiently and economically.
STUDIO SUITE
LUXURY SUITE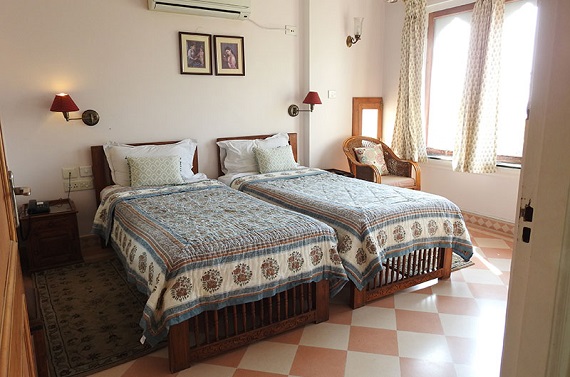 FAMILY SUITE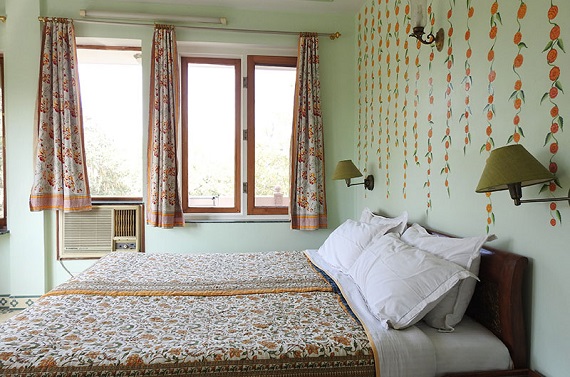 SUPERIOR LUXURY SUITE